Quick Facts of David De Gea
| | |
| --- | --- |
| Net Worth | $135.16 million |
| Salary | $23.72 million per year |
| Height | 6 ft 5 in |
| Date of Birth | 7 November, 1990 |
| Profession | Athletes |
When the legendary Sir Alex Ferguson announced the signing of a certain David De Gea from Spanish club Athletico Madrid, not many Manchester United fans felt overly excited. Edwin Van Der Sar had just left the Club and for anyone that watched his performances, replacing him was going to prove a herculean task. After a dodgy opening few months, De Gea won over all of his critics with some breathtaking goalkeeping.
Biography
David De Gea is a goalkeeper for the Spanish National team plying his trade for Premier League club Manchester United. and the Spanish national team.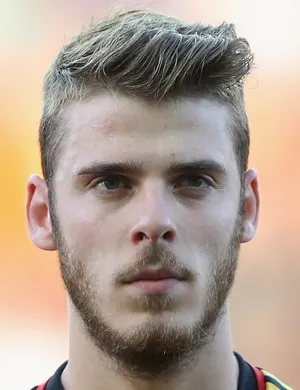 David De Gea was born on the 7th of November 1990 in Madrid and raised in Illescas. He began playing at age 13 when he joined Spanish Club Atletico Madrid.
De Gea made his way through the ranks and made his senior debut for the club in 2009. After De Gea was installed as the first-choice goalkeeper at Los Roji Blancos, he helped the club to win both the UEFA Europa League and the UEFA Super Cup in 2010.
During his time at Madrid, De Gea had always been perceived as the apparent successor to national team legend Iker Casillas for his display with the Atletico Madrid shirt.
His improved performances for Atletico attracted Manchester United, and De Gea was signed for £18.9 million in 2011. The fee at the time was a British transfer record for a goalkeeper.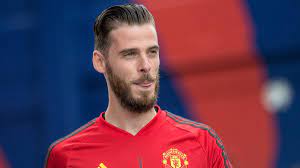 In his time at United, De Gea has won a Premier League title, an FA Cup, a League Cup, and the UEFA Europa League. He had a stuttering start at United and drew criticisms from the press in his first season for his inability to command his penalty area. His rather skinny physique didn't do much to improve his plight.
However, he has put the jitters of the first season firmly behind him, by winning the Sir Matt Busby Player of the Year consecutively for three seasons, becoming the first-ever player to win the award on three successive occasions.
As a child, De Gea admired former Manchester United keeper Peter Schmeichel but he has been compared to another United great, Edwin Van der Sar, the man he replaced at Old Trafford, often dubbed as Van der Gea
De Gea was part of the most controversial piece of transfer business in the summer of 2015. On the 7th of August 2015, he was omitted from the team for the league opener against Spurs due to uncertainty regarding his future by then manager Louis Van Gaal. A transfer fee worth £29 million-plus Madrid keeper Keylor Navas was agreed upon between the two teams after a summer of speculation on the 31st of August.
The transfer ultimately fell through as the necessary paperwork was not submitted before the closure of the Spanish transfer window. The failure of the transfer led to the pointing of fingers from both clubs with the United hierarchy blaming the failure of the deal on a faulty fax machine while the Madrid counterparts blamed United for conspiring to make the deal fall through and turning in paperwork intentionally late.
After the transfer debacle, on the 11th of September, De Gea signed a new four-year contract with Manchester United with an option for a further year extension and the Spanish keeper hasn't looked back ever since.
David De Gea was captain of his national team at the under 21 level from 2011 to 2013, he made his senior debut in 2014 and was selected for the World Cup that year without making an appearance in Brazil. The tournament ended in disaster for Spain. He has been capped 27 times by his country.
Also Read: 
Wife, Girlfriend
David De Gea is currently dating Spanish singer Edurne Garcia, the couple has no children together. She was born on the 22nd of December 1985 in Madrid, the Capital of Spain.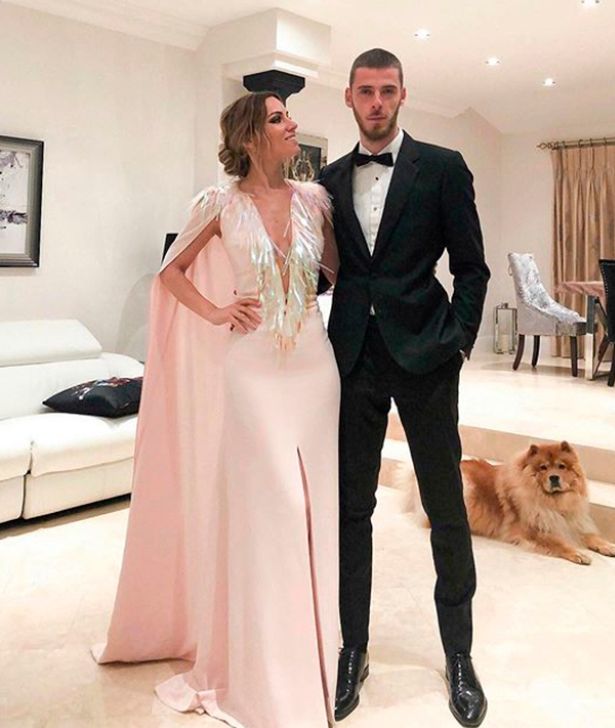 The couple seems perfect together and there are no rumors about how their relationship is fairing in public eyes. They are often spotted attending public functions together much to the delight of their fans. Probably in the future, the two celebrities might decide to do what we have been expectant of them to do all along.
Net Worth
David De Gea has a net worth of $135 million and has an estimated salary of $23 million.
Career Earnings:
| Year | Weekly Wage | Yearly Salary | Club | Position | League | Age | Contract Expiry |
| --- | --- | --- | --- | --- | --- | --- | --- |
| 2022 | £350,000 | £18,200,000 | Manchester United | GK | Premier League | 30 | 30-06-2023 |
| 2021 | £350,000 | £18,200,000 | Manchester United | GK | Premier League | 29 | 30-06-2023 |
| 2020 | £350,000 | £18,200,000 | Manchester United | GK | Premier League | 28 | 30-06-2023 |
| 2019 | £200,000 | £10,400,000 | Manchester United | GK | Premier League | 27 | 30-06-2020 |
| 2018 | £200,000 | £10,400,000 | Manchester United | GK | Premier League | 26 | 30-06-2019 |
| 2017 | £200,000 | £10,400,000 | Manchester United | GK | Premier League | 25 | 29-06-2019 |
| 2016 | £200,000 | £10,400,000 | Manchester United | GK | Premier League | 24 | 29-06-2019 |
| 2015 | £72,000 | £3,744,000 | Manchester United | GK | Premier League | 23 | 29-06-2016 |
| 2014 | £72,000 | £3,744,000 | Manchester United | GK | Premier League | 22 | 29-06-2016 |
Height and Body Measurement
A goalkeeper's world is a tall world and David stands at an impressive 6 ft. 4 inches (192 cm) in height. Standing this tall gives him the advantage of being able to dive and cover any edge of the goalpost a ball is shot at. However, to achieve this, he needs to be light as well. His bodyweight of 183 Ib (83 kg) in no way poses an obstacle when he is performing his duties for his club and countryside.
Other Facts You Need to Know About David De Gea
De Gea suffers from a condition called hyperopia which is a medical term for being far-sighted.
He was roommates with Manchester City's Sergio Aguero when they were teammates at Atletico Madrid.
His girlfriend Edurne represented Spain at the Euro-vision Song Contest in Vienna back in 2015.
 De Gea almost signed for Wigan back in 2010 when then Latics boss Roberto Martinez struck an agreement with Atletico, but ultimately the deal fell through on the final day.
Believe it or not, in his school De Gea was a prolific striker, which goes a long way to explaining his ability on the ball as a goalkeeper.
 Aside from almost joining Wigan in 2011, De Gea was also approached by West London side QPR a year earlier while still playing for the Atletico B team.
Also Read: Top 10 Richest People in the world with full biography and details.