Quick Facts of Marcus Rashford
| | |
| --- | --- |
| Net Worth | $42.31 million |
| Salary | $12.19 million per year |
| Height | 5 ft 10 in |
| Date of Birth | 31 October, 1997 |
| Profession | Athletes |
At the age of 18, English-born football player Marcus Rashford marked his professional debut for Premier League side Manchester United in February 2016 in a game that saw him net 2 goals for the Red Devils in a UEFA Europa League encounter. Finding the back of the net not once but twice on his senior team debut for the Red Devils was a sign of great things to come for the Manchester-born wonder-boy.
As a forward, Marcus Rashford has distinguished himself as a player that can be relied on to score goals when it matters most. He had his name on the score sheets in his first Manchester derby as well as his first UEFA Champions League game. In May 2016, Rashford became the youngest English footballer to score in his senior-team debut match for the Three Lions of England.
Marcus Rashford Bio (Wiki), Career
Marcus Rashford was born on October 31, 1997, in Wythenshawe, Manchester to Melanie and Robert Rashford. His football talents manifested at a very young age. As a 5-year-old, Rashford began an early journey into a professional football career when he joined the south Manchester community club Fletcher Moss Rangers. Two years later, he joined the youth academy of premier league giants Manchester United. While in United's youth academy, Rashford had his secondary school education at Ashton-on-Mersey School located in Greater Manchester, England.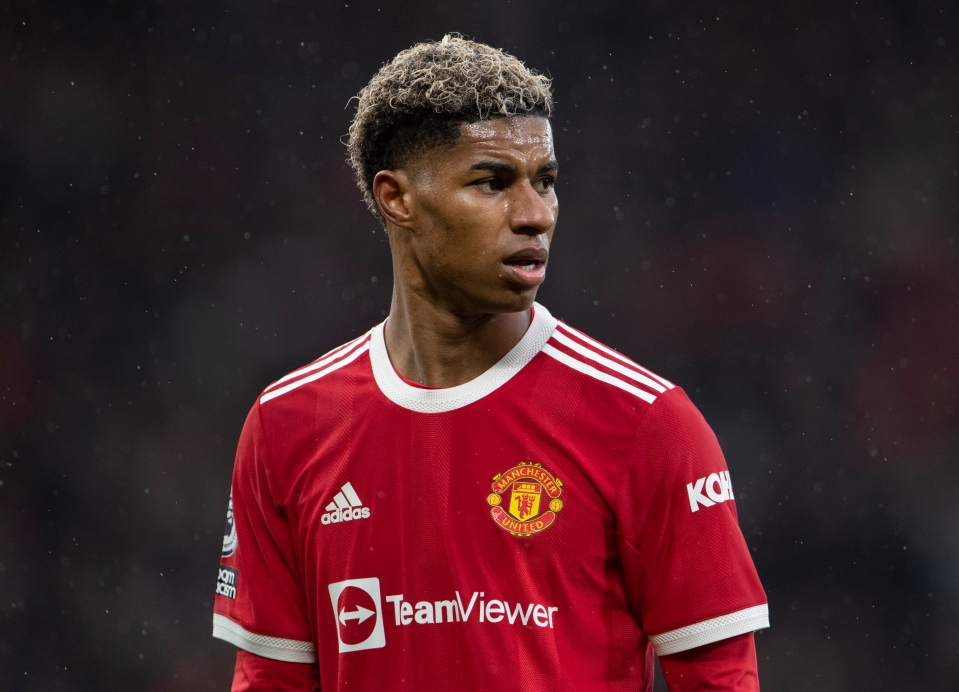 Marcus Rashford was first named as a Manchester United's A-team substitute in the team's league game against Watford on November 21, 2015. However, he didn't get any playing time until the following year. He eventually got his official senior team debut on February 25, 2016, in a Europa League fixture against Danish side Midtjylland after an 11th-hour injury forced Anthony Martial off the starting lineup. Rashford rose to the occasion finding the back of the net twice in the game which the Red Devils won 5-1. With his dual-scoring debut, Rashford became Manchester United's youngest player to ever score in European competition, a record previously held by Goerge Best.
Just 3 days after his European debut, Rashford marked his premier league debut in a similar fashion as he scored a brace in United's 3-2 victory over Arsenal. He also marked his first Manchester derby on March 20, 2016, with a crucial goal which had his team triumph over arch-rivals Manchester city. Having proven his worth in his debut season, Rashford earned a regular spot on United's first team for the 2016-17 season. He appeared in 53 games for the red devils, more than any of his teammates.
On the international front, Marcus Rashford equally has been impressive for his home country England, even though he doesn't have as many laurels to show for it. Having represented England at the under-16, under-18, and under-20 levels, Rashford marked his senior team debut on May 27, 2016, in a friendly game against the Australian national team. Being the goal poacher he is, he did not fail to put his name on the scoresheet as he scored the opening goal in his team's 2-1 triumph over Australia.
Rashford was also a part of England's squad at the Euro 2016 championship making him the youngest player to represent England at a European competition. Given his impressive track record for both club and country, it came as no surprise that Marcus Rashford was named on England's 2018 FIFA World Cup squad.
Marcus has returned to training on October 11, 2021, and scored a goal against Leicester City.
Family – Parents, Brothers, and Sisters
Growing up, Marcus Rashford had minimal interaction with his father Robert Rashford. Some reports have it that his father's name isn't even contained in his birth certificate. His mother, Melanie being a devout Christian brought him up to the best of her ability and set him on the straight path. Rashford was raised alongside 4 older siblings; sisters Chantelle and Claire and brothers Dwaine and Dane.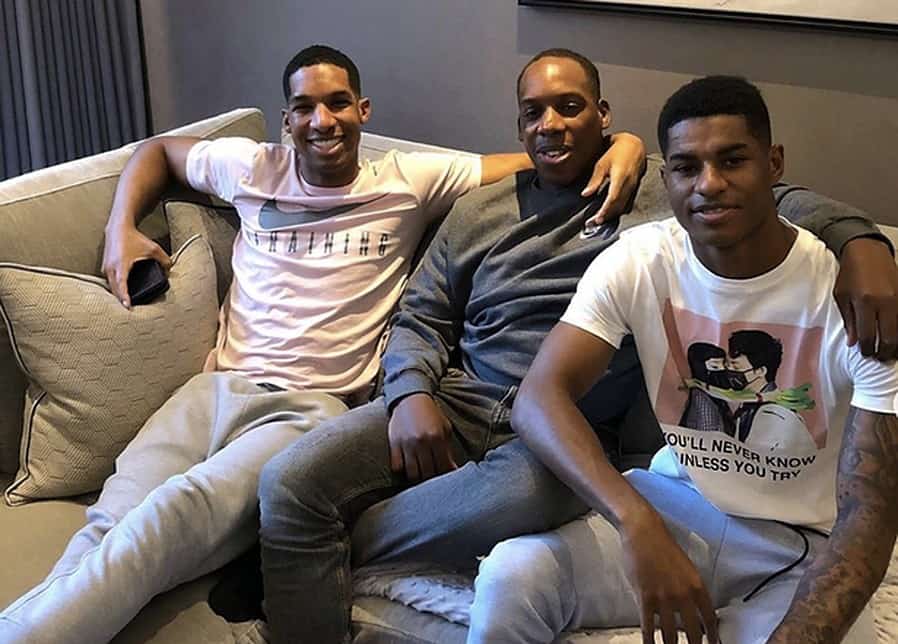 In his journey into a professional football career, Rashford has received immense support from his family. As a kid, his mother kicked balls with him and took the initiative to enroll him at Fletcher Moss Rangers. On his part, Marcus Rashford's older brother Dwaine Maynard has served as his representative right from his teenage years. The Red Devils striker named him as his official agent in May 2016.
Rashford's Net Worth, Salary, and Market Value
Rashford has a net worth of $42 million and his salary is $12 million per year.
Career Earnings:
| Year | Weekly Wage | Yearly Salary | Club | Position | League | Age | Contract Expiry |
| --- | --- | --- | --- | --- | --- | --- | --- |
| 2022 | £180,000 | £9,360,000 | Manchester United | AM L, ST | Premier League | 23 | 30-06-2023 |
| 2021 | £180,000 | £9,360,000 | Manchester United | AM, ST | Premier League | 22 | 30-06-2023 |
| 2020 | £180,000 | £9,360,000 | Manchester United | AM, ST | Premier League | 21 | 30-06-2023 |
| 2019 | £44,000 | £2,288,000 | Manchester United | AM, ST | Premier League | 20 | 30-06-2020 |
| 2018 | £19,000 | £988,000 | Manchester United | AM, ST | Premier League | 19 | 30-06-2020 |
| 2017 | £19,000 | £988,000 | Manchester United | AM, ST | Premier League | 18 | 29-06-2020 |
| 2016 | £2,900 | £150,800 | Manchester United | AM, ST | Premier League | 17 | 29-06-2017 |
| 2015 | £80 | £4,160 | Manchester United | AM, ST | Premier League | 16 | 29-06-2016 |
Marcus Rashford's Girlfriend
Having struck fame and fortune at a relatively young age, fans of the Manchester-born striker are curious to know if there is a special someone in his life. The football star first sparked romance rumors in May 2016 after he was spotted going out to dinner with a gorgeous blonde later identified as Courtney Morrison. It was reported at the time that the two were in a relationship for only a few months.
Subsequently, Rashford has been linked to another young lady named Lucia Loi. However, just like the earlier romance rumors, it was never confirmed by Rashford himself. In May 2018, Rashford was again linked to being in a relationship with reality TV star Lauryn Goodman. The latter has been a long-time friend of the football star however, she became conspicuously regular at many of Rashford's games which gave rise to the romance rumors.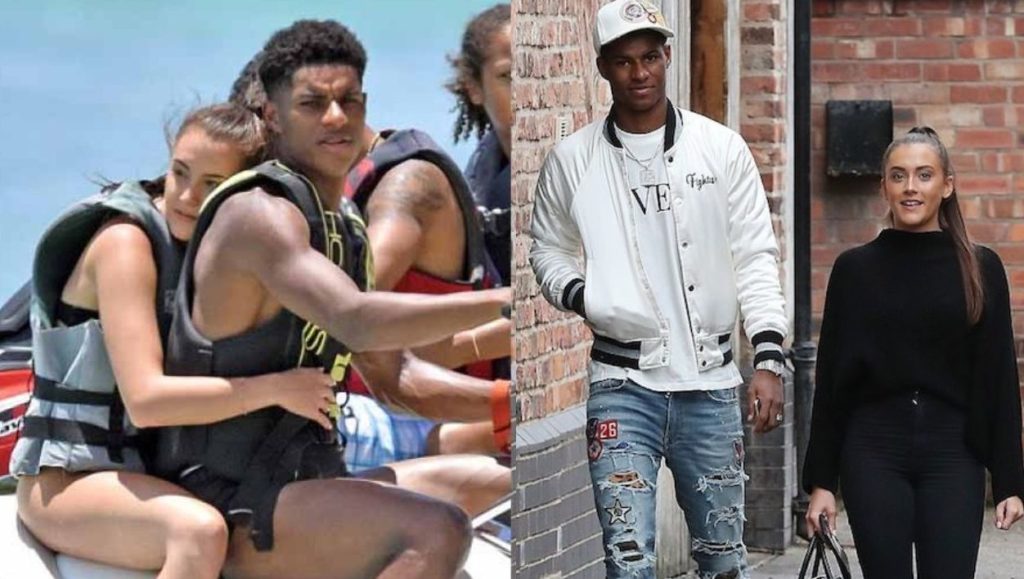 Height, Weight
Due to his natural talents and brilliance, Marcus Rashford is usually found teamed with players a bit older than he is. This always raised fears among his coaches over his physical fitness and stamina. However, over the years, he has matured into a solid player. Rashford stands at a height of 5 feet and 10 inches (180 cm) coupled with a weight of 70 kg (154 lbs).
Also Read: Top 10 Richest People in the world with full biography and details.