Quick Facts of Mike Vrabel
| | |
| --- | --- |
| Net Worth | $11 million |
| Salary | Not Known |
| Height | 6 ft 3 in |
| Date of Birth | 14 August, 1975 |
| Profession | Athletes |
Mike Vrabel is a former National Football League player that played for the Pittsburgh Steelers, New England Patriots, and Kansas City Chiefs, before choosing to take up coaching, he now makes a living working as the head coach of Tennessee Titans.
The three-time Super Bowl-winning linebacker, who became an All-Pro in 2007, the same year he made his first and only Pro-Bowl appearance, was known for his versatility as a player as he usually played as a tight end when called upon.
The NFL Network notably named him number 7 on their Top 10 Most Versatile Players list.
What NFL team did Mike Vrabel play for?

Mike Vrabel joined New England Patriots in 2001 as a free agent and played till 2008 and also won three super bowl titles.
Mike Vrabel's Bio, Age
Mike Vrabel was born Michael George Vrabel in Akron, Ohio on the 14th of August 1975. He spent most of his life in the midwestern state, first attending Walsh Jesuit High School in Cuyahoga Falls, before heading off to Ohio State University on an athletic scholarship after having a standout high school football career.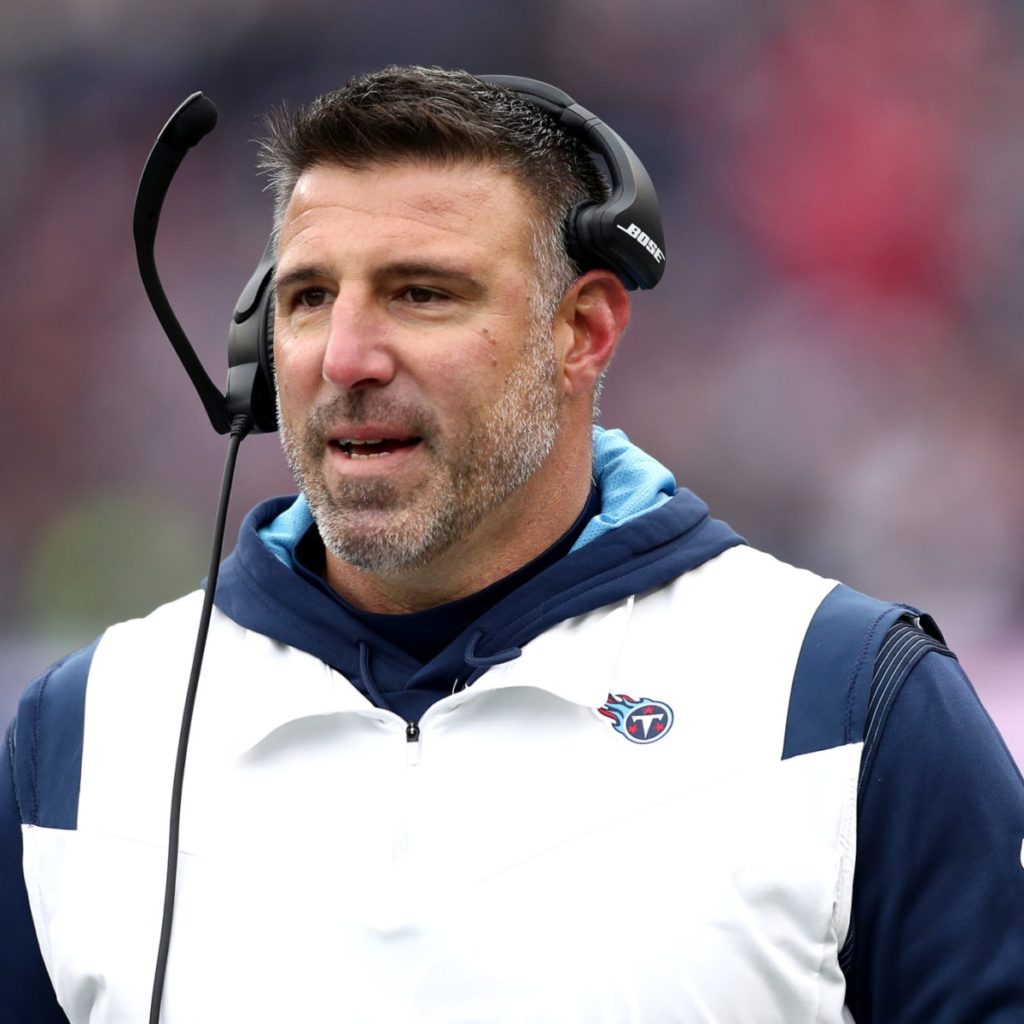 Vrabel played as a defensive end for the Ohio State Buckeyes football team from 1993 to 1996. During this time, he was twice named the Big Ten Defensive Lineman of the Year (1995 and 1996) and was recognized as a consensus first-team All-American.
He recorded a total of 36 sacks and 66 tackles for a loss in his college career before enlisting for the 1997 NFL Draft where he was selected with the 91st overall pick in the third round by the Pittsburgh Steelers.
The Steelers enjoyed Vrabel's services for four seasons before he moved to the New England Patriots as a free agent for the 2001-2002 season.
In his eight years with the Patriots, Vrabel won three Super Bowls and made the First-team All-Pro selection as well as the Pro Bowl in 2007.
On February 27, 2009, Mike Vrabel's time with the Patriots came to an end after he was traded to the Kansas City Chiefs. He went on to play two more grueling seasons in the NFL before choosing to call time on his playing career.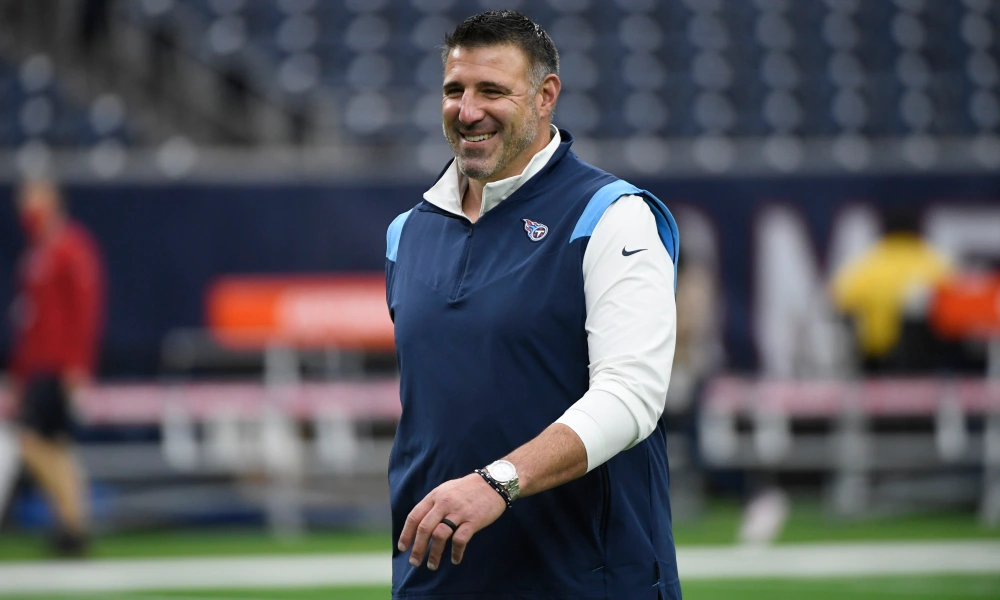 He was however not done with the game in its entirety as he almost immediately took a job as a linebackers coach at Ohio State, where he had been inducted into their athletics Hall of Fame.
Vrabel spent three years at Ohio before he was hired by the Houston Texans as a linebackers coach in 2014. He stayed in the position for three years before he was promoted to defensive coordinator.
After a year in his new position, Vrabel left the Texans in January 2018 to work as head coach of the Tennessee Titans. He received a contract extension from Tennessee Titans for which no one batted an eye.
Does Mike Vrabel dip tobacco?

Mike Vrabel was the assistant coach who used smokeless tobacco on their sidelines during matches. This violation was reported by Ohio State to NCAA.
Mike Vrabel's Family – Wife, Parents
Jennifer Vrabel is the name of Mike Vrabel's better half. The couple, who have been together for almost two decades, have two sons; Tyler and Carter, who live with them and are hoping to follow in their father's footsteps to enter the league.
Mrs. Vrabel has found herself to be in the news in the past after she was involved in some trash-talking on Twitter with the wife of Arkansas head coach.
Jen, as she is called by her close friends and family, also frequently updates her followers about her family, talking about her husband's career as well as what her children are up to while also sharing pictures of those events.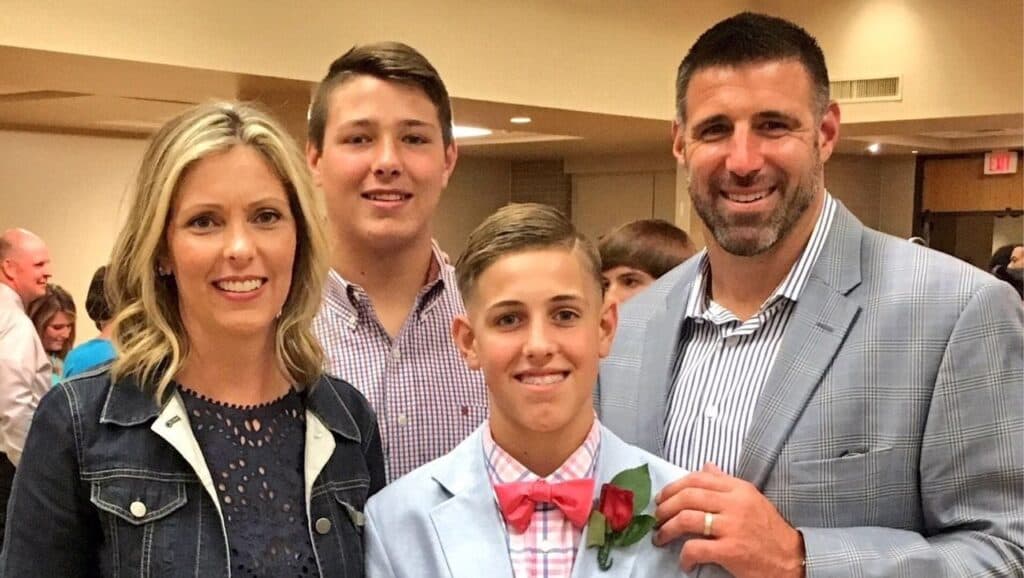 Just like her husband who used to coach the team, Jen is also an Ohio State fan and enjoys attending their games whenever she has a chance to.
Another Vrabel family member that was recently in the news is Mike's father, Chuck Vrabel, who works as the principal of Buckeye High School.
Chuck was sometimes 2015 accused of making inappropriate comments to a female teacher which led to a sexual harassment investigation by the school district.
The superintendent in charge of the investigation ended up placing Chuck on a 10-day leave, two of which were without pay.
Mike Vrabel's Net Worth
Mike Vrabel's career as first a player and then as a coach in the National Football League has earned him quite a lot of money.
The former linebacker is said to have a net worth of around $11 million as of 2022, a figure that will be on the rise in the coming years as he builds his coaching career.
Regardless of what it will be in the future, Vrabel as of now enjoys the finer things of life. He recently splashed out on a 6,100 square foot custom new home which has six bedrooms and eight bathrooms, in Forrest Hills, Tennesse.
The coach was said to have paid around $2 million for the home after having reportedly sold his previous place in Ohio for around $3 million.
Mike Vrabel's Height and Weight
The average height of an NFL linebacker is 6 feet 3 inches (1.9 m) but Mike Vrabel, however, measures an inch taller with a height of 6 feet 4 inches (1.93 m). He further has a weight of 261 pounds (118 kg).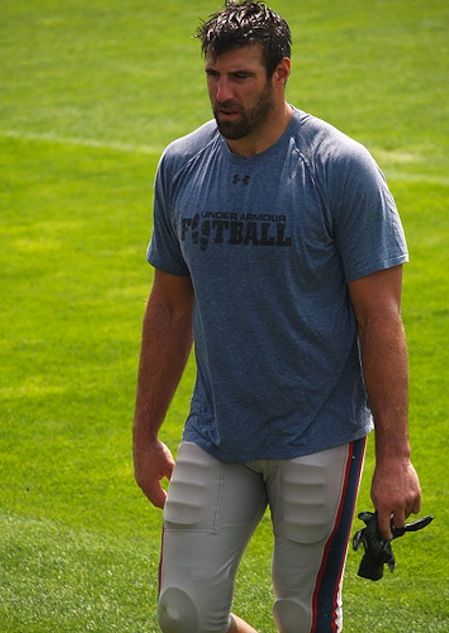 Also Read: Top 10 Richest People in the world with full biography and details.